ONE MATHEMATICAL CAT, PLEASE!
Topics in Algebra II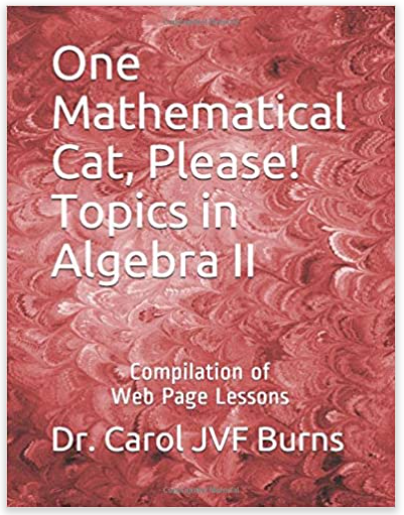 Get a print version of these lessons.
This book is printed in black-and-white. The print size is
small
, since each lesson matches the web page exactly, and is then shrunk to fit an 8.5" x 11" page. Check the Amazon preview. Young eyes only!
Section 1:
Recursion, Sequences, and Applications
Section 2:
Functions and their Graphs
Section 3:
Probability
Section 4:
Statistics
Section 5:
Systems of Equations
Section 6:
Matrices
Section 7:
Graphical Transformations
Section 8:
Quadratic Functions and More
Section 9:
Exponential and Logarithmic Functions
Section 10:
Polynomials