Friday, October 15, 2021
I've finished the audio read-throughs on all my lessons! It has been a lot of work. The next 'pass' through all my 400+ lessons will now be making them responsive, since they've had a fixed-width design for decades. I've been working on a responsive lesson template for months now. (I decided not to use Bootstrap; I'm creating just the responsive elements I need using only HTML and CSS.)

Saturday, September 4, 2021
I'm beginning to learn Bootstrap as a possible tool for creating responsive pages for my site. This Bootstrap Crash Course (1:18:47) is great. It introduced me to unDraw, open source (color-customizable) illustrations for any idea.

Monday, July 5, 2021
Joshua introduced us to a strategic dice-rolling game—Farkle—which was a lot of fun! I want to keep track of these links:
Sunday, July 4, 2021
I've been in Hawaii (Maui) with Julia, Tony and Alex, so I'm a bit late!
Got my first two (real) PayGo purchases, two different PreCalc lessons (at four cents each).
I updated my monthly stats and website income for June 2021. Since I've implemented my random blocking, the most notable change is that I'm selling lots more of my books. People seem to be buying the books as opposed to using COIL or PayGo.

Friday, June 4, 2021
My site is live with a pay-for-individual-lessons PayGo option! Big day for me!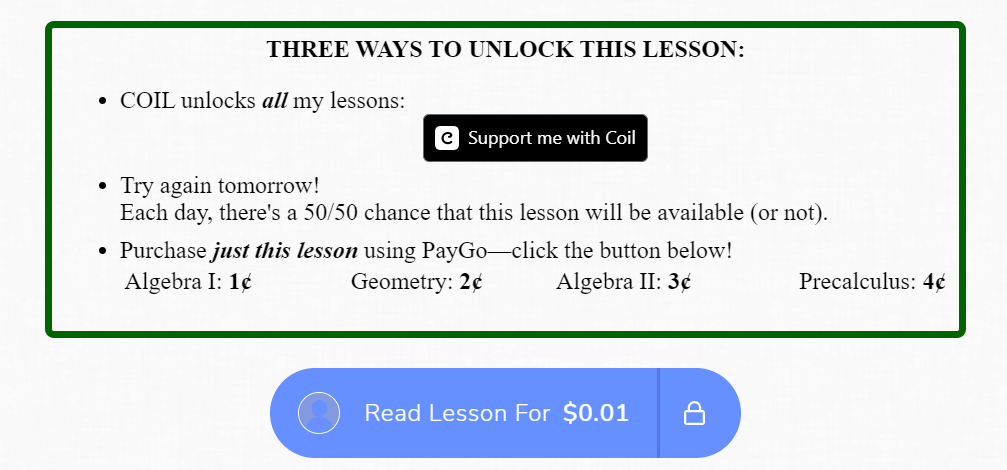 Tuesday, June 1, 2021
I've been working with PayGo for several weeks now to offer my users a third way to open up my lessons—buy just a particular lesson. So, users now have three choices: COIL opens up all my lessons; wait a day (each day, there's a 50/50 chance that you'll see a lesson or not); buy just the one lesson. Algebra I lessons cost one cent; Geometry two cents; Algebra II three cents; Precalculus four cents. We should be going 'live' very soon now! PayGo is in beta, and I'm one of their first testing sites. It has been so much fun working with them!

I also updated my monthly stats and website income for May 2021.

Sunday, May 2, 2021
I updated my monthly stats and website income for April 2021.


Loading crossword puzzle . One moment please.