homepage: Dr. Carol JVF Burns

See the Sewing/Crafts section of my main Table of Contents for other sewing projects


Alex's Memory Quilt
My granddaughter Alex was born in December 2018.
I'm making a long-term quilt, approximately one square per month,
to remember special things in her life (and especially times with Grandma).
The individual squares (with creation dates) are shown here.
When finished, it will be approximately queen-size: 12 rows of 10 squares each.

#1
birth date, time, weight
sew date: March 17-18, 2019

#2
I always say to Alex:
'I love you to the moon and back!'
sew date: March 18, 2019

#3
the 5 S's:
swaddle, side/stomach, Ssshh, swing, suck
for calming a baby
sew date: April 5, 2019

#4
We'd sing this every morning:
Good Morning, Merry Sunshine
sew date: May 6, 2019

#5
wagon rides at Pebble
sew date: May 14, 2019

#6
Alex loves her books!
Some of her first favorites:
the B Book; Dragons Love Tacos;
Baby's Busy Day; William's Ninth Life;
Ada Twist, Scientist;
Llama Llama Red Pajama
sew date: May 15, 2019

#7
Julia came up with a special song to sing while the bottle is warming!
sew date: May 18, 2019

#8
rocking in the Pebble double rocker
sew date: May 19, 2019

#9
We always sing the rubber duckie song at bathtime
sew date: May 25, 2019

#10
When wet, the disposable diapers change to a blue line,
and Alex does not like wet diapers!
Hence the 'blue line blues'!
sew date: June 3, 2019

#11
Reid park & zoo
(Carol takes her there frequently)
sew date: June 6, 2019

#12
Alex loves to 'help' play the piano and sing!
sew date: June 7, 2019

#13
first overnights at Pebble
sew date: June 9, 2019

#14
first solid foods
sew date: June 10, 2019

#15
Hawaii:
first toy chosen herself;
first family vacation;
first flight;
first visit to ocean
sew date: July 5, 2019

#16
Pebble's new play structure!
sew date: October 4, 2019

#17
first tooth emerged
sew date: October 4, 2019

#18
first day at Strauss ECE
(Early Childhood Education)
sew date: October 5, 2019

#19
Crawling!
sew date: October 5, 2019

#20
Pull-to-stand on library futon
sew date: December 6, 2019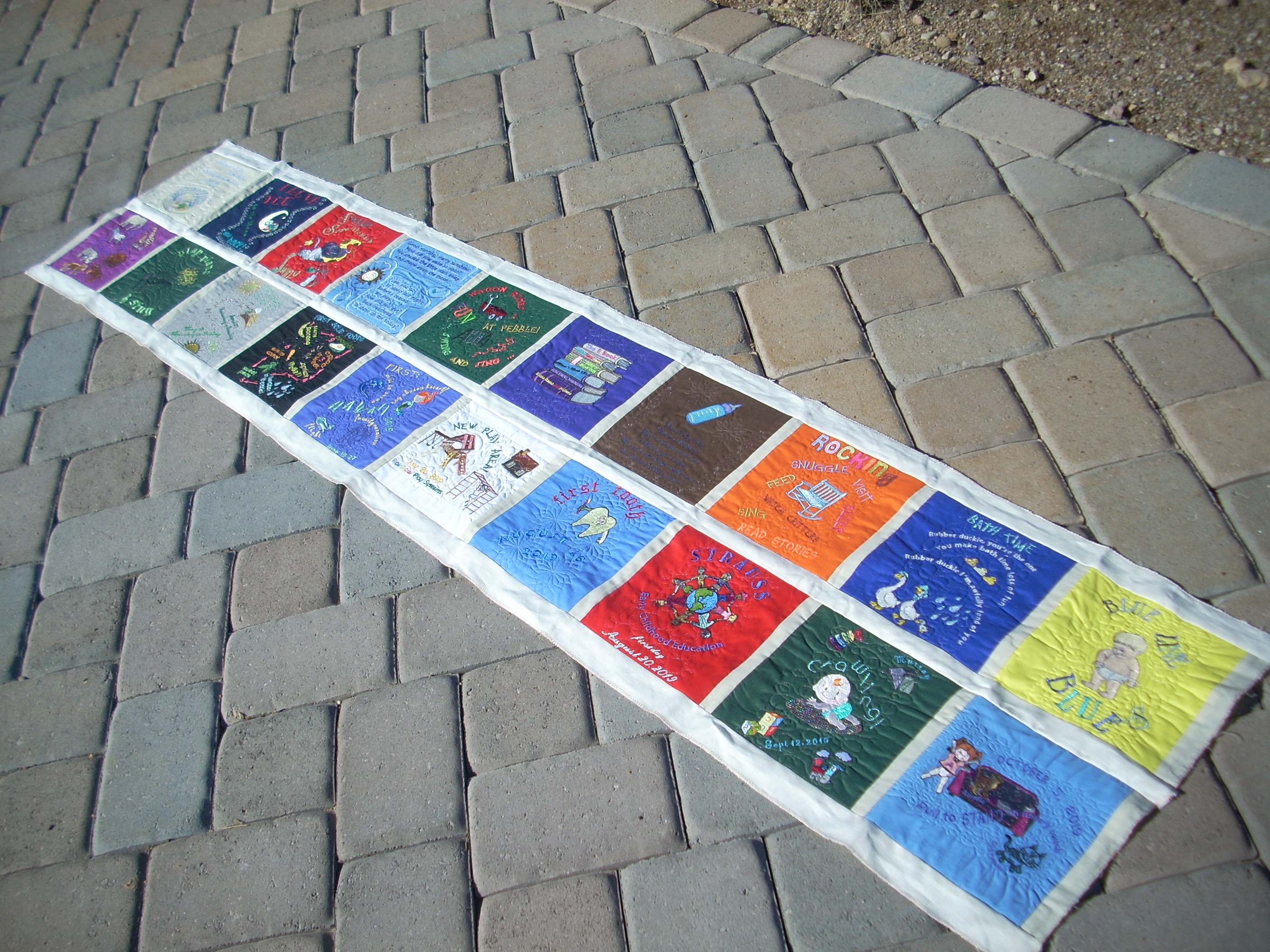 the first two rows completed

#21
Alex's First Birthday
Theme: Dragons Love Tacos!
sew date: March 22, 2020

#22
First Steps
sew date: March 21, 2020

#23
First Words & Signs
sew date: March 22, 2020

#24
COVID-19 Pandemic
sew date: May 10, 2020

#25
Letter Recognition
sew date: May 11, 2020
For block #25, size = reliability.
Letters are colored as closely as I could match with my thread collection:
Aqua, Black, Cornflower, Dandelion, Emerald green, Fern green,
Green, Hazel, Indigo, Jade, Khaki, Lilac,
Maroon, Navy blue, Orange, Pink, Quartz grey, Red,
Salmon, Tangerine, Ultramarine, Violet, White, Xanthic, Yellow, Zucchini

#26
Shapes and Colors
sew date: August 15, 2020

#27
All Day Grandma Party!
sew date: August 15, 2020
Antonio started 'All Day Grandma Party'—he would alternate both fingers in the air and say this when referring to time with Grandma Carol. For a long time, this action was Alex's sign for me! In mid-August, Alex actually said the word 'Gran-ma' (part of her spoken-word explosion).

I used Stitch Artist Level 1 for the first time on this square, to create the toddler (line art from web, traced and digitized). I love it!! Lots more custom digitizing for me, moving forward!

#28
Alex at her Tiny Piano
sew date: August 31, 2020
First square created from a photograph, using my new Stitch Artist software!

#29
Crib to Toddler Bed
sew date: October 4, 2020

#30
Sharktopus Queen
Halloween 2020
sew date: November 16, 2020

We've decided to make
these first 30 squares
into a toddler-size quilt!

Here's the image I used
to create block #30